Mobile Solutions
With SYStemna  Mobility Solutions, Enterprises could move towards mobility. With mobile devices becoming cheaper and services more affordable, the option to go mobile is not a distant dream. Mobile smart phones and PDAs are moving towards becoming the perfect solution for all enterprise woes of connectivity and communication. They have evolved from being simple communication devices to a productivity tool for the professionals on the move.
SYStemna has invested many years of experience and efforts in successfully building many software products and solutions around data synchronization and telephony applications. While studying the needs of our clients, we have come out with generic frameworks to address the specific needs of the clients. We help our clients turn around their software faster using our frameworks. Our vast experience and research on mobile computing technology have helped us come out with such generic solutions. Our frameworks support diverse mobile platforms and diverse technologies like
·Windows Mobile

·All versions of Pocket PC
·All version of Smartphone
·Windows Mobile 6.0 Standard and Professional
·All version of Win CE

·Symbian

·S60 2nd and 3rd Editions
·UiQ

·Palm OS
·BREW
· J2ME/Blackberry
·iPhone
Our Mobility Solutions are:
Field Force :: Mobilize your business
Introduction 
Many mobile employees are already equipped with data-enabled Smart phones. In the next three years the majority will be able to use their "classic" mobile phones as data terminals in the field allowing their organizations to operate even faster.
Our solution enables many international organizations to meet this vision today, and helps in streamlining complex business processes using new technology. It provides a high level of functionality and flexibility with the lowest possible total cost. 
Our solution makes the marketing and evaluation process efficient for those conducting Mobile Field Sales-related technology searches. 
System Architecture
Field Force is an enterprise mobile application. It consists of:
o        Server side application: handles requests of customers and backend users.
o        Client side application (mobile side): works with Java technology enabling user to connect application server through carriers' operators.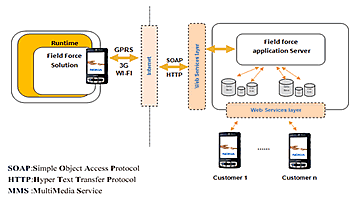 For more information please contact us.

M-Banking :: Follow up your account
Introduction
The next time you take out your cell phone to make a phone call or send a text message, don't forget to check your bank account balance, pay your bills, or transfer money to anyone of your contacts in any country. These services and others are offered by M-Banking solution. 
According to a study by financial consultancy agent, 35% of online banking households will be using mobile banking by 2010, up from less than 1% today. Upwards of 70% of bank center call volume is projected to come from mobile phones. Mobile banking will eventually allow users to make payments at the physical point of sale. "Mobile contact less payments will make up 10% of the contact less market by 2010. 
Even one year ago, it would have been difficult to believe that a significant proportion of banking customers would be accessing their finances via their mobile phones, or have ubiquitous access to stock markets and investment services. However, looking forward to the next few years of M-Banking, one's imagination could run wild with the potential this market holds, whether it involves cross- selling opportunities, or the ability to incorporate payment systems into mobile phones.
System Architecture
M-Banking is optimized to deliver mobility solutions to banks, brokerage houses, and other financial institutions. M-Banking offers great flexibility and customization options, and gives our service consumers access to full online banking functions.
1.       Client: 
A mobile application with Java technology.
Backend enterprise application server: 
Responds to mobile devices requests (monitoring of term deposits, access to loan statements, and access to card statements .etc.)
1.       Data provider servers: 
Delivers information content in a flexible format (SOAP over HTTPS) to M-Banking server.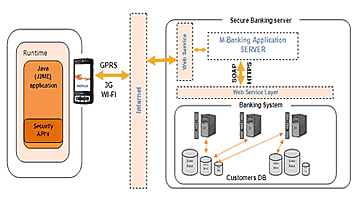 For more information please contact us.

Stock Solution :: Trading everywhere any place.
Introduction
You don't have to spend hours daily poring over the financial pages, crunching numbers, and trying to identify and analyze trends. Stock Solution does it for you. You can spend just five or ten minutes every day reviewing our forecasts and recommendations, and be ready to make investment decisions by the help of our Stock System.
Stock Solution is an adaptive recommendation system for trading stocks that automatically acquires content-based models of user preferences to tailor its buy and sell advice, the system utilizes the rank of stocks, and it revises the common needs based on tracing user behavior.
Stock system is a complete system with mobile interface serves as a tracker for stock changes, prices of the stock shares, and any other information related to the shares. It helps any person to view the recent prices directly from the stock server, with frequently updated data.
System Architecture
Stock Solution is built on client-server architecture. Information altering, records keeping, and adaptation are performed on the server, while the user interface and related computing are done on the j2me technology client.
o        Client: 
Java mobile application.
o        Backend enterprise application server (Stock Tracker Server – STS): 
STS is the backend program for the Stock Tracker mobile application. Its main function is responding to mobile devices requests at any time of the day, and sending replies back to them as fast as possible with reliable and up-to-date data. The application follows the Three Tier architecture of a software system, through the interaction between mobile device, STS and database server.
o        Data provider servers: 
They are specialized in handling operations of financial institutions trading in markets. Stock data feed servers, deliver content in a flexible format using simple object access protocol over hyper text transfer protocol over secure socket layer (SOAP over HTTPS), enabling institutions to power our STS with last market information.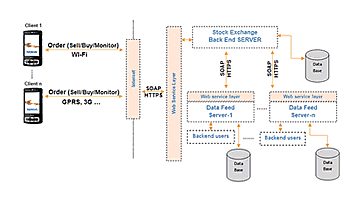 For more information please contact us.

Greeting center :: Share your events
Introduction
Due to the increasing usage of mobile phones in our live, new capabilities for mobiles have been implemented, one of these amazing capabilities is creating greeting messages, the greeting messages now is widely used to share interesting events with other people.

Greeting center solution is designed to act as a message manager for all users who need to manage and share their events. It handles the sending of messages, offering message templates, and composing MMS messages.
System Architecture
Greeting center is an enterprise mobile application. It consists of the following:
o        Server side: manages sending and composing cards and sharing events between users.
o        Client side application (mobile side): with Java technology, consists of a large number of greeting cards and picture messages.
o        Service provider: responsible for sending MMS and any other functionality like messaging payment and profile creation.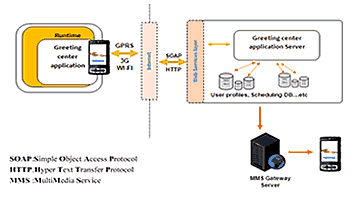 For more information please contact us.